You Only Need to Contact Us to Have Efficient and Cheap Waste Removal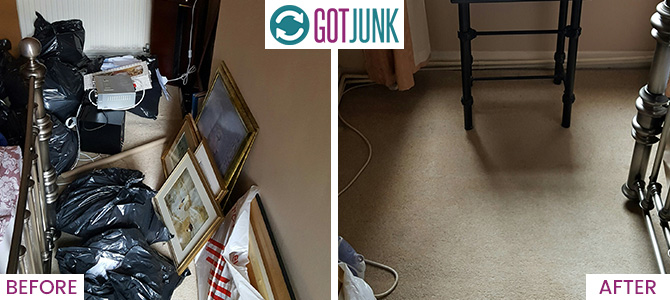 For waste removal that's fast, efficient and economical, contacting Got Junk is the way to go. We are the experts who give a professional London waste removal service whenever you need refuse clearance of any kind. Our experience in junk removal is extensive and it's why we are used by so many companies and households when it comes to waste collection. We give you a service that adheres to all the legal requirements so you don't have to worry about anything except making a phone call to us for our fully trained employees to come to your address and clear the waste you want removed.
Rely on Us and Our Waste Removal Services
Waste can be anything which you consider to be waste, it could also be called junk or rubbish, in effect, it's something you want rid of, for whatever reason. Instead of worrying about how to go about getting rid of it, how much it will cost to hire a skip, for example, and how to obtain a skip and so many other little inconveniences, by contacting our waste clearance company, it will be job done in no time at all and the job itself will be done correctly, professionally and safely. For more information you can call us now on 020 3743 0222 and we will give you a free quote on how much it would cost to have your waste removed. We are sure you'll be impressed by our prices just as you'll be impressed by our overall service.
We Are Best at Waste and Junk Removal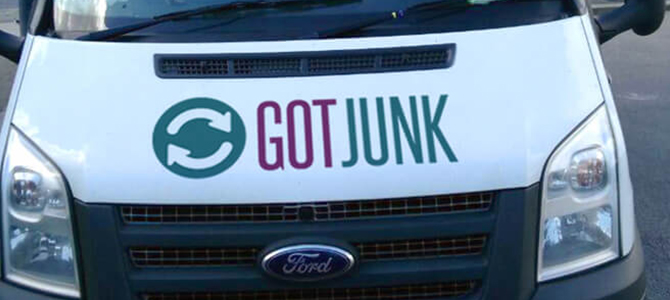 Waste removal is something that needs to be done in a professional manner. It means you'll find ourselves meticulous in the work we do and the way we go about our work. We feel we provide an important service and it's one of the reasons why we try to keep our prices so low. On any given day we can be carrying out rubbish removal from gardens, commercial properties and homes. From house clearances to clearing waste from open land to busy streets. We have the resources to take care of any job big or small no matter what job we do.
Save Money and Time with Our Waste Removal Services
With the aid of our waste removal experience, knowledge and hard-working employees, you can transform any space by removing the waste and rubbish from it. We also have the professional equipment that is needed which also saves you money because often you just don't know exactly what you're clearing up. This can also be hazardous if you don't know what you're doing. We do know what we're doing and it cuts through any of these worries you may have about clearing up waste by calling us to get it done.
Get Our Amazingly Low Waste Removal Prices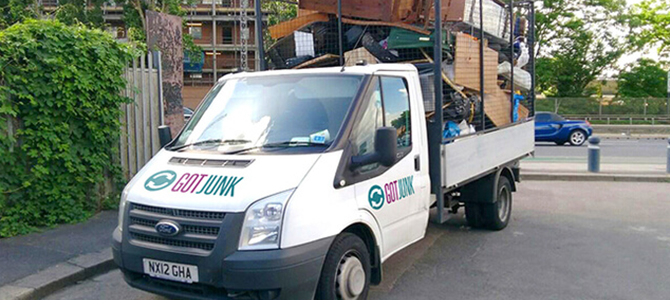 Waste removal is what we specialise in and, in turn, this gives you a specialist service without you having to pay an excessive price. There really is no cheaper alternative than our junk removal service. Yet, we give you an all-round service that is comprehensive, meticulous and professional. Waste can build up in a short period of time and one of the other advantages of knowing our waste removal UK firm is, if in the future, any waste builds up again then you know immediately who to call to get it cleared. It's why we are used by so many homes and businesses. So whatever type of waste you want cleared and no matter how big or small the job is, we really are the cost-effective waste removal service. Call us now on 020 3743 0222 and see how Got Junk is the waste collection and removal company you've been looking for. We are the best way of removing waste from any location and the best way you can save money because our waste removal costs are so much better than you would get elsewhere.
An All-Inclusive House Waste Removal Solution
If there is too much clutter accumulated in your home or you are just looking for an easier way to address everyday household waste removal, your search can end now, as we have the perfect solution for you. We offer you a comprehensive list of home waste removal services that include everything from one-off decluttering of the loft, cellar, garage or any other room in your house to regular visits from our waste collectors to haul away any household rubbish you may have ended up with and want to dispose of. There is no better way to say goodbye to all issues caused by junk and everyday waste at your home than hiring the professionals to do it for you. Call 020 3743 0222 today to tell us what you need and reserve your appointment!
We Can Handle Office Waste Removal Too
Apart from our all-encompassing domestic waste removal services, we offer a list of options for commercial properties and businesses as well. We can do so much more than the regular disposal of office waste other companies may offer you. We can clear away old office furniture, we can collect obsolete electronic equipment and make sure it is recycled at an authorised centre, we can even take away construction waste you may have ended up after your recent office refurbishment. But we don't serve just offices either – we have a number of commercial waste removal options suitable for many other businesses too, like restaurants, stores, factories and many more. We can also customise a package to suit your business's requirements to the letter – what more could you wish for as a business manager!
Do You Need a Reliable Garden Waste Removal Service?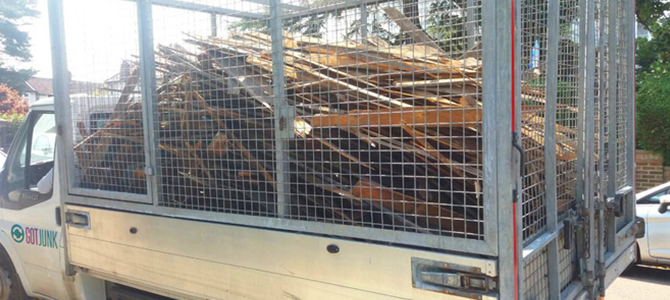 Maybe you have just done some work in your garden, a bit of hedge trimming or cutting the grass perhaps, and you have a pile of green waste you need to get rid of. Or you have just finished a major garden landscaping project that has transform your backyard completely and left you with a mountain of debris, old flagstones and rubbish. Whatever the case, you don't have to worry about dealing with the removal of garden waste yourself. We will help you dispose of even the bulkiest and dirtiest garden junk without any problem. Our prices for garden waste removal in London are extremely low; just request a free estimate from our customer service representatives by phone or via our contact form and you can see for yourself!
What Makes Us the Top Waste Clearance Company in London?
There are many waste removal companies that operate in London, but as you may have already experienced yourself, not every company can be trusted to do a good job. We are different! Got Junk has a stellar reputation for consistently delivering the highest quality services of all the companies in the rubbish removal industry at the most competitive prices. Our services are backed up by years of experience, unmatched proficiency and constantly striving for perfection. Add to that our low prices and you get an offer you can't refuse! Hundreds of homeowners and business managers have put our trust in us in the last 10+ years and have not been left disappointed, and you won't be either! Book our services today with one call to 020 3743 0222 and wave goodbye to all your rubbish.
We Use Specialised Waste Removal Trucks and Gear for Guaranteed Results
Waste collection is a task that requires not only special skills, but specialised equipment as well if you want the job to be done safely and efficiently. Our crews are kitted out with professional lifting and loading equipment in order to ensure that the task is done quickly and fully. Our gear guarantees there will be no injuries or accidents and no harm will be caused to your property. We also use top-of-the-line waste removal trucks that are purpose built to carry waste safely and have a low carbon footprint too, as we don't want to harm the environment with our work. We have everything necessary to lift, carry, load and transport your waste to the recycling centre or landfill in a secure, swift and efficient manner.

Keep the Waste Removal Cost Down with Our Cost-Effective Solutions
If you are looking for efficient but cheap rubbish clearance services in London, you have certainly come to the right place. We offer you the best value for money across all our services and we will throw in an additional discount to make the deal even sweeter. We appreciate the fact that not all our potential clients have cash to splash and we know that you want to pay an affordable price but still get a high standard service – don't we all?! We know you would like to keep the waste removal cost to a minimum and that's why we offer you a number of special deals and discounts to help you achieve that. We have something for every budget and we will definitely have something for you too at a price you could easily afford.
A Wide Range of Waste Disposal Services and Flexible Solutions for Every Need
We've already mentioned a few of the services we can offer you for your home or commercial premises, but those are just the tip of the iceberg. We don't stop at just offering you office or house waste removal services. Got Junk is not a one-trick pony! We have many packages available for your garden, loft, cellar, garage, with specialised services for clearing away old furniture, electronic equipment, building waste and recyclable materials available as well. What's more, we are very flexible too. Most waste removal companies in London will offer you pre-designed packages with no room for changes, but we are not like them. If you can't find the exact service you require in our portfolio, we will happily tailor-make a package just for you. Now, isn't that handy!
Our Junk Removal Services Don't Harm the Environment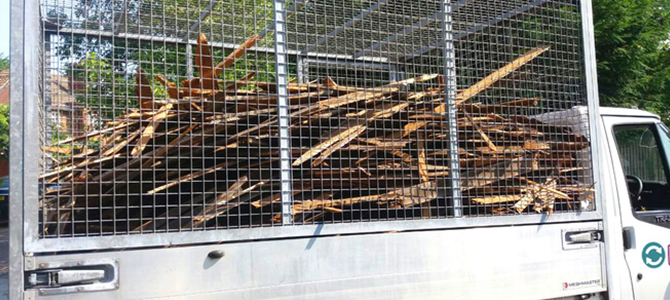 Apart from utilising specialised vehicles with low carbon dioxide emissions, we always strive to use the shortest routes and have many depots across London so that we can react to your requests fast and travel as short a distance as possible. This helps us keep our carbon footprint low, but those are only a small part of the measures we take to make our waste removal services more environmentally friendly. We focus heavily on recycling and repurposing junk items and we collaborate with many charity organisations to find a new home for items that still have some useful life left. Our recycling policies are very strict and over 85% of what we collect ends up in recycling centres. Dial 020 3743 0222 to learn more about our green policies and book an eco-friendly waste disposal service today!
Our Same Day Rubbish Collection Will Make Your Life So Much Easier
If there is something you want to get rid of fast, then there is no need to stress out as we will come and take it off your hands in no time. We offer you a swift same day rubbish clearance service at no extra cost that will see the waste gone from your domestic or commercial property by the end of the day. You don't have to put up with unsightly piles of rubbish in your garden or trip over junk scattered across your home a minute longer. Get in touch with us now and all your waste and worries will be gone in a few short hours! Hire our fast acting waste clearance team today!
Get Exclusive Deals on the Best Waste Removal Services in London Today!
Now, you have the chance to save some money and still get the most reliable and professional rubbish disposal services in all of London. If you order more than one service from us, will give you a special discount, and we also have exclusive offers available for both new and recurring customers. Our waste removal prices are already the most competitive in London, but we will bring them down even further to give you unmatched value for money and a perfect result! Call 020 3743 0222 now for a free consultation, get a detailed estimate and book your appointment – you won't regret it!
Our Testimonials
Their ethical waste removal practices are what every company should be doing. I always hire Got Junk whenever I have any junk that I need to get rid of.
They had excellent reviews for waste removal. They seemed like a company I could trust. I hired them to take care of things for me. They turned out to be a reliable, professional firm. I'll be hiring them again if and when needed.
They were a fully licenced, environmentally responsible waste removal firm. That was all I needed to hear, that and the quote, of course, for me to book them in for my job.
I wanted to get rid of my junk but wanted it to be put to better use if possible. This waste removal firm said all the right things in terms of their ethical credentials. I booked them in for the job and was happy with how they took care of things.
Show all