Carry out Your Garden Waste Removal the Easy Way by Contacting Us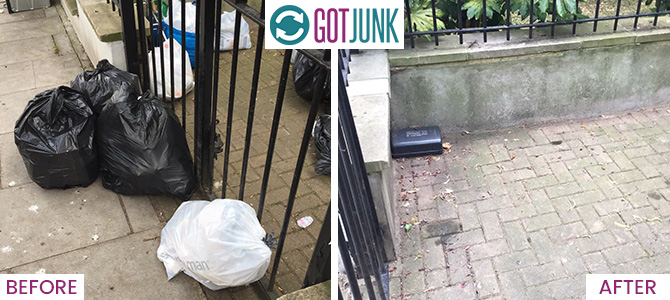 There's perhaps no junk that has more impact on than a garden waste. A number of discarded or unwanted items lying in a garden can disrupt the whole look of that garden. It's generally a living space which needs to be cared for at the best of times and can be cultivated and transformed with care and attention. In order to do that however, you first have to do get rid of garden waste which is lying around and for that you need to call our garden waste removal London company who will come and pick up everything you consider to be waste and take it away and dispose of it in a safe manner. We provide removal of garden waste at very competitive prices.
Let Us Handle Your Green Junk Collection in a Jiffy
The reason you should come to Got Junk is because we're a company that has many years experience of garden junk clearance as we have of clearing every type of property and land. Instead of worrying about how you would remove everything that is lying about in your garden, one phone call to us and the problem is solved immediately. In addition to saving you manual work, we save you money because the price we charge for garden waste removal is so reasonable. To find out immediately how good the price of our garden waste clearance service is, you can call us now on 020 3743 0222 and we will be glad to answer any other questions you have.
Garden Junk Removal Services of the Highest Level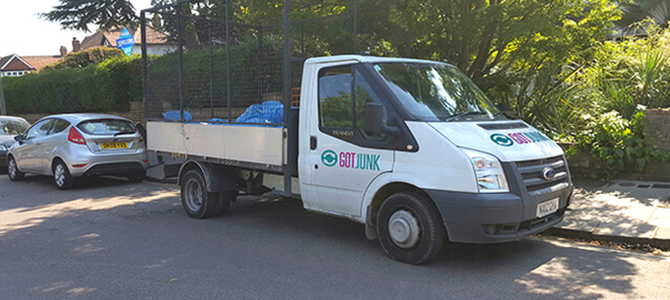 The waste in your garden can be, of course, be anything. It could be natural waste such as dirt, grass, weeds… It could be items such as discarded old tyres or bikes or simply rubbish as in litter. With many items, you really are better off giving us a call for a number of reasons when it comes to garden waste clearance London. Sometimes with garden waste disposal, you just don't know what you're handling and this can be unwise in terms of your health. Some items can be surprisingly heavy which again is something it's not advisable to try and move by yourself. For garden waste disposal to be carried out professionally as we do on a daily basis, it can take planning and expertise and this expertise is something we have gained over many years.
Don't Hesitate and Book Garden Junk Collection with Us
If you have a lot of items you need to get cleared, you may think about hiring a skip but this would be not cost-effective compared to hiring our company to carry out garden junk clearance and in addition you would have to do that manual work which can be both difficult and potentially precarious. Quite simply, we carry out the garden junk removal efficiently and by causing you the least disruption as possible. In no time at all you will have a garden space that you can then do anything you like with, it takes such a load off your mind and you'll be delighted with how wonderful your garden looks afterwards when it isn't littered with junk.
Get the Best Offers on Green Waste Removal Service in London
Quite simply, garden clearance needs to be done professionally if you want a professional job done. Our garden waste collection service allows you to have that professionalism for a great value price as well as being the safer choice, the better choice for cheap garden waste removal because we know what we're doing and always do an exceptional job. Whether it's garden waste collection or if it's junk that's been lying in your garden for some time, we'll clear it, transport it away and dispose of it safely and legally. So if that is what you would like call us now on 020 3743 0222 , we make garden waste removal an easy job for you because all you have to do is give our company a call in order to arrange a time and date to have your garden cleared. Rely on the experience and expertise of Got Junk and in no time at all, you will have a garden space back to looking at its best in no time at all.
What Makes Our Garden Waste Disposal Services Different?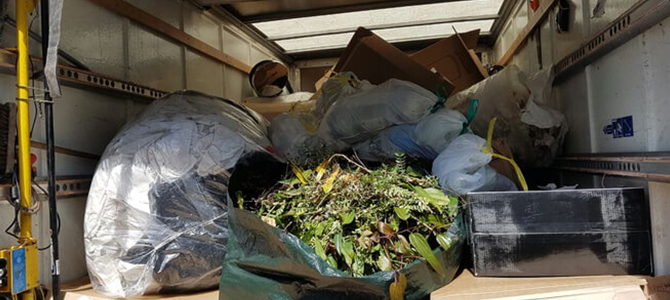 You may be wondering why you should choose us to remove garden waste for you and not some of the other companies that offer such services in London. The answer is quite straightforward – we are better. That is not just a boastful statement; we back all our promises with high quality results and skilfully carried out clearance work. We work faster than most other companies, thanks to the experience of our crews, and we do the job more thoroughly than anyone else. And for the cherry on top, we will throw in a competitive price in the deal too. We are the best way to dispose of garden waste out there, but don't just trust our word for it – book now and see for yourself!
Handle Garden Clearance at Your Own Pace with Our Convenient Skips
If you don't need any help with your green waste but just an appropriate container to put it in and someone to haul it away once you are done clearing your garden, you can book one of our skips and do the work at your own pace. Can you put garden waste in a skip, you may ask. Yes, you can. We have skips available in various sizes, so just tell us the approximate amount of waste you need to dispose of and we will deliver a skip to your property that will be the perfect fit for that volume of waste. Once you are done filling it up, we will come and collect it, and take the contents for recycling, making disposal of garden waste in London easy and convenient for you.
Our Same Day Garden Waste Removal Service Can Save You a Lot of Hassle
If you are preparing your garden for an important event or if you have just been doing some gardening work and you want the resulting waste gone from your garden as soon as possible, we have just the service you need. Got Junk offers you a convenient same day garden waste disposal service in London, perfect for any emergency needs and requests. Place a call to 020 3743 0222 right now, share your requirements with our customer service representatives and we'll send you a team of skilled rubbish collectors to collect and dispose of garden waste for you quickly and proficiently. All the green waste can be gone by the end of the day, at no extra cost, and you can enjoy your beautiful garden right away!

Removing Garden Waste Need Not Cost a Fortune
Are you wondering how to dispose of garden waste effectively without breaking the bank? We have a solution to that problem too! Or more precisely, we will customise a solution that will reflect your exact requirement and the cost will be calculated accordingly. This means that you won't have to pay for any service you don't actually require. We will never strain your budget with package deals that contain unnecessary add-ons. What you get for will be exactly what you will pay for – we will charge based on the amount of rubbish we collect and not a single penny more. Call us now on 020 3743 0222 to claim your detailed quote free of charge. Get the best value for money on your garden waste clearance services in London – reserve your appointment today!
Our Skilled Professionals Will Remove Garden Waste for You Safely and Quickly
We have been operating across London for more than ten years and throughout that time we have managed to build a team of skilled workers who know all there is to know about the safe disposal of garden waste. Our crews constantly undergo additional training and strive to perfect their skill set so that they can always provide our London customers with top class garden waste removal services and excellent results. It is this dedication to perfection and our impressive commitment to our work that make us so good at what we do. Our reputation is built on the trust of our customers and the proficiency of our crews has played a huge part in earning that trust. Put your trust in Got Junk and you won't regret it!
We Offer a Handy Garden Waste Bin Hire Option Too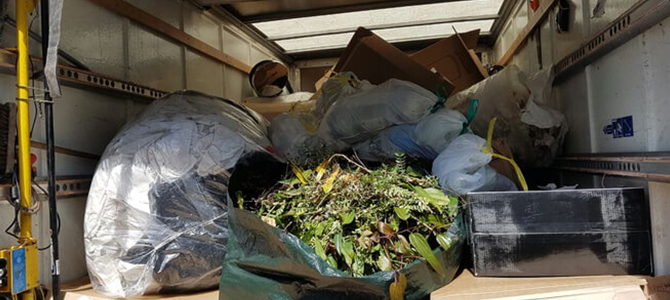 For all our customers who often require garden junk to be collected from their properties, we have a very convenient solution – our garden waste bin hire. If you have a green thumb and work in your garden every week, for instance, you will often end up with various types of garden waste that has to be cleared away. In most cases, that will be green waste, like hedge clippings, branches and cut grass. For all that waste that gets accumulated during your gardening and has to be disposed of properly we can deliver a bin to your property where you can dump the green waste and we can come to collect it at regular intervals or upon your request. With this service, you will no longer have to stress out over how to dispose of garden waste every time.
What Are the Benefits of a Thorough Garden Clearance for Your Home and Garden?
A comprehensive garden waste clearance service offers a long list of advantages. To start with, garden junk can not only be an eyesore but can also cause damage to your garden, like impeding the healthy growth of plants and causing disfigurement of your favourite trees, shrubs or flowering plants. Secondly, the piles of junk in your garden can become a breeding ground for pests, insects that can harm your plants or rodents, and you certainly don't want that to happen. Next, a garden full of waste can't be used to its full potential. And last but not least, removing garden waste will improve the overall appearance of not only your garden but your entire house too, making it a pleasant place to spend time in and even improving its market value.
A Quick and Easy Way to Deal with Garden Junk Collection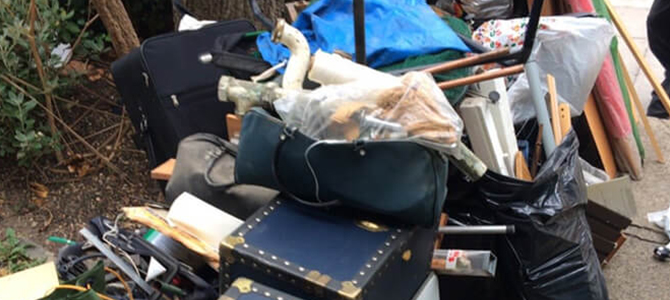 You don't have to go through all the hassle of dealing with council collection services anymore or wait for days on end for someone to arrive and haul away your green waste. You won't even have to get your hands dirty as we will do all the garden waste disposal work for you, if that is what you require. All you have to do is give Got Junk a ring at 020 3743 0222 and tell our team what and when you want cleared away from your garden and we will be there promptly to take the junk off your hands and out of your property, and that too for a low price. Garden clearance in London has never been easier or more cost-effective!
Call Us Now to Get the Best Deal on Your Garden Waste Removal!
Got Junk offers you not only the best way to dispose of garden waste, but the cheapest one too! Our prices are the most competitive in all of London and we also have a number of special offers and discounts you can take advantage of to save even more. You no longer have to pay extortionate rates just so that you can get rid of a few bags of tree clippings and grass. Nor do you have to put up with substandard services and shoddy work just to save a few quid. We give you the best of both worlds – a top quality garden clearance service at a pocket-friendly price. Dial 020 3743 0222 now to make your booking and start saving today!
Our Testimonials
I got Got Junk to carry out the garden waste removal for me on the same day I'd accumulated all the green waste. Being able to get everything removed so quickly was a real help.
Hiring Got Junk for garden waste removal turned out to be massively beneficial. The service was a great skip hire alternative. I didn't want to have to go down that route. With this company's services, luckily, I didn't have to.
Getting garden waste removal sorted turned out to be far cheaper than I'd expected it to be. I thought it'd be a hassle to sort out too. I got it all taken care of after placing a call to this company.
Hiring Got Junk for garden waste removal proved to be a great decision. They handled the massive amount of green waste I wanted to get rid of splendidly well and for a great price.
Show all