Builders Waste Removal Done the Better Way Starts with a Phone Call to Us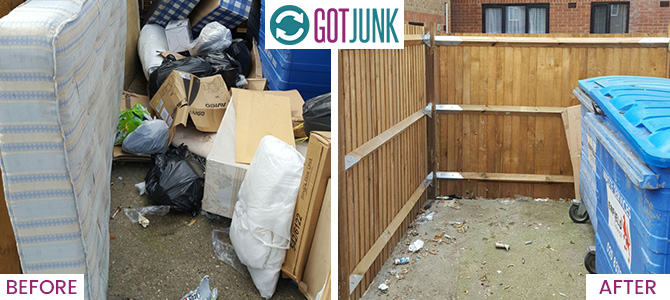 It can be great having building renovation work done. The downside to that is the mess that's left afterwards which needs to be cleaned up. Although major work can be finished, there could still be lots of 'rubbish' around lying around. Got Junk clears up all the debris that needs to be cleared up. When it comes to builders waste removal, we are the company to call because of our experience and expertise, not to mention our great value prices. It can be very difficult, if you don't know what you're doing, to clear up building waste after the builders have been working in some place.
Benefit from Our Builders Waste Recycling Service
All types of items can be lying around including general rubbish and litter, no matter how good the builders are. We are the builders junk removal company that gives a finishing touch to any building work. Our hard-working and fully trained employees make sure that any space is cleared of items professionally and those items themselves will be disposed of safely. For more information on our builders waste clearance service you can call us now on 020 3743 0222 and also receive a free quote which takes into account your own individual circumstances.
Choose Our Builders Junk Removal Company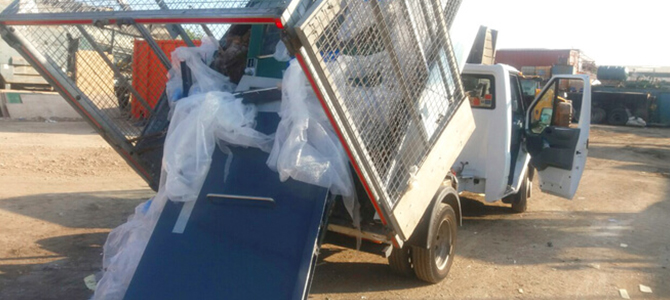 As builders can leave behind anything and everything, you need to take care with how you move all these items. It's another reason why is best to call in a professional builders rubbish removal service such as ours because it could potentially be hazardous if you haven't done it before. By calling us, the builders rubbish removal is done fast and efficiently. It could also take you an incredible amount of time to get everything done by yourself and because we charge such as great economical price, it simply makes sense to call our company when we can do builders waste removal for you without you having to spend a lot of money.
We Provide Builders Trash Service Everywhere around London
There is practically no situation, regarding the aftermath of building work, that we haven't come across before and it's this knowledge which puts us ahead of our competitors and gives you a better service when you need a space cleared of builders debris. We don't just do a better builders waste collection job, we do an extensive and comprehensive job in clearing up. Every detail is taken care of and like our past clients, we are sure you'll be delighted with the end result.
DIY & Builders Waste Disposal
In particular, if you're faced with a situation where you just feel there is a significant amount of builders waste collection work to be done in terms of clearing up after the builders have been, then there really is no need to worry as long as you call our company. We'll take care of the builders junk removal and you'll see a transformation that will absolutely delight you. Builders junk removal is a job that can be heavy, time-consuming and hazardous. Yet, if you call us we will do the heavy work and make it a job done safely.
Construction Waste Disposal Is More than Easy Now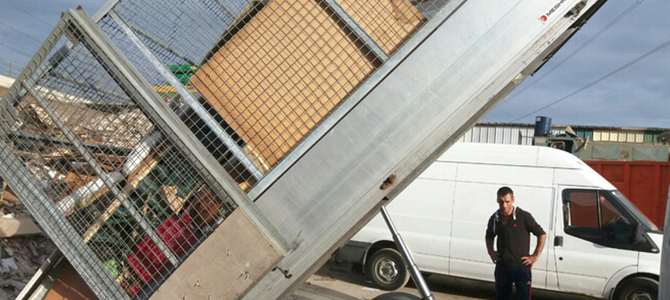 No job is too big or too small for us which means that even if you feel it's just a small job that could be done in a relatively quick time or if you feel it's a major job which needs a lot of work, we have both the resources and trained, hard-working employees to take care of it for you. So when you need builders waste clearance call the experts now by calling Got Junk on 020 3743 0222 . You'll be making sure that the builders work carried out has that finishing touch because the builder's waste removal is done safely, professionally and for a great low price.
Why Hire Us for Your Builders Waste Removal?
The reason is simple – we are much better than any other option out there. We have spent over a decade in perfecting our services and we have always kept up with the latest trends in the field of construction waste clearance in London so we know how to do it both legally and properly. We beat all our competitors hands down in all aspects of our services – we work quickly, have flexible booking options, charge the lowest prices in London and to top it all off, we always deliver an excellent quality service. No matter if you want to hire a builders skip or a full team of waste collectors who will take away all the builders waste from your property, we are your best bet!
We Are the Eco-Friendly Solution to Builders Waste Clearance
The junk and debris left behind after construction work can be dangerous both for the people who handle and dispose of them and the environment. Such waste can be bulky, heavy and even hazardous in some cases. That is why great care has to be taken during builders waste removal so that none of that harmful waste ends up polluting the environment. Got Junk adheres to all governmental regulations for disposing of this type of junk and we always strive to be as green as possible in our work. We use recyclable builders waste bags, fuel-efficient vehicles and special equipment and we will send every recyclable bit of the construction waste we collect to our partner recycle depots. Call us on 020 3743 0222 today for more info on our green policies.
Get a Builders Skip in the Exact Size You Require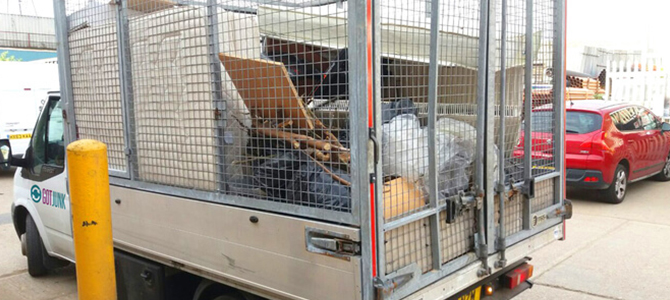 Depending on the amount of construction debris and waste you have to dispose of, you may need a different size of skip. We know that your builders clearance needs may vary, that's why unlike many other companies we have builders skips available in many different sizes and capacities. Our experts will help you calculate the amount of waste you need to throw away and offer you a skip of a suitable size. For instance, if you only have a smaller amount to dispose of, you could book a 4-yard skip, whereas if the amount is significant, you could go for a 12-yard one, and we have many mid-sized options too. Why pay a higher cost for a bigger skip than you actually require when there's a better alternative?
A Well-Trained Team Will Handle Your Construction Clearance
At Got Junk we carefully select all our employees with an emphasis of skills and experience during the selection process and we provide them with further training at regular intervals. This is done in order to ensure they are familiar with all the latest industry developments and have the most up-to-date skill set to help them deliver an outstanding builders waste removal service. The experience and proficiency of our employees have played a great part in helping us earn our stellar reputation and cementing our place as the leader in construction waste disposal services in London. Get in touch today on 020 3743 0222 to book an appointment with our top team. Place your trust in our experts and you will not be let down!
The Best Prices for Builders Clearance Services in the Capital
If you are working on a limited budget, you might be put off hiring professional builders waste disposal services for fear of the high costs. If that is the case, we have good news for you! Our prices are the lowest in London and that means that literally everyone can afford booking our services. That's right, you no longer need to worry about the cost of the service and whether it will fit within your budget or not. What's more, if you are concerned that such a cheap construction waste removal service might be of a substandard quality, you shouldn't be! We keep our rates low without compromising on the service quality a single bit, all thanks to our experience and flexibility.

We Have All the Necessary Equipment for a Safe Builders Waste Clearance
Clearing away and disposing of building junk and rubble requires not only skill and special techniques, but also specialised tools and equipment. Failing to use the proper equipment may result in not only property damage, but injuries too, and that should be avoided at all costs. We have a full range of first class tools and vehicles that make any building junk removal job we take on safer, faster and easier. This includes strong builders rubble bags that can easily hold large amounts of debris, lifting and loading equipment and special safety gear. Our teams in London are kitted out with everything necessary to do the job fully, professionally and without any risks for you, them or the surroundings.
We Will React to Your Builders Junk Collection Request Immediately
If you are in urgent need of a trustworthy building site clearance service at a fair price, you've come to the right company for help. Got Junk offers you a speedy solution to all your problems caused by construction waste cluttering up your home, office or building site. We have a same day construction clearance service available throughout London which is perfect for emergency situations and urgent requests. Give us a ring now, tell us what type and amount of waste has to be hauled away and one of our skilled crews will be at your property shortly to take all the debris and rubble off your hands. You can have all that waste gone by the end of the day – how much more convenient than that can a service get!
What Other Advantages Does Our Building Junk Removal Service Give You?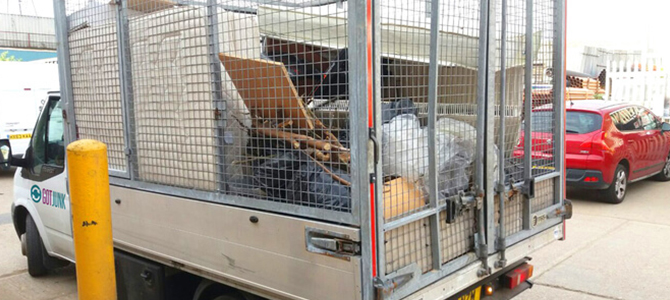 A swift and efficient builders waste collection service like the one we offer you gives you many advantages. First of all, clearing away the debris from your property while the construction work is still in progress will facilitate the work of the builders as there won't be any piles of junk constantly getting in the way. Second, building junk can pose tripping hazards as well as many other risks, including the risk of developing health issues or worsening existing ones. Third, a thorough construction waste clearance will let you use and enjoy your newly built or refurbished property to the fullest without any ugly junk spoiling its looks. You can enjoy these and many more benefits if you book with Got Junk today.
The Easiest Way to Handle Builders Waste Disposal
There is no need for you to bother with clearing away builders waste yourself or to wonder where to dispose of it in a proper and legal manner. You no longer have to buy builders rubble bags or find a proper vehicle to load the junk on. We offer you a comprehensive service that covers all the basics of safely handling construction waste as well as a number of additional perks. We will come to your property at the time that is most convenient to you, armed with all the necessary gear, sturdy builders waste bags and specialised vehicles, and we will quickly collect, load and take the junk away for recycling. Your London property will soon be clear of all building waste and you won't have to lift a finger to do anything!
Grab a Bargain on Our Construction Clearance Services Today!
Now, you can save up to 50% on selected builders waste removal services from our extensive portfolio! We have lucrative deals and exclusive offers for both new and returning customers, so you are sure to be pleasantly surprised with a nice discount no matter if it's the first time you hire us or we have already cleared away construction waste or any other type of rubbish for you in the past. Our rates are already the lowest in London, but we will bring them down even further to help you save some more money. Book our reliable and cheap building site clearance services today with one call on 020 3743 0222 ! Get in touch now and bag a great bargain for the best services in London!
Our Testimonials
The help Got Junk provided with the builders waste disposal was spot on. There's absolutely no way I'd have been able to remove everything. I'm glad that I was able to call upon their professional help.
I could've done away with the hassle of skip hire, having such an unsightly load outside my property. Thankfully, I got the service I needed for the builders waste removal. Forget hiring a skip. Book in this company instead.
Hiring this firm for builders waste collection was incredibly cheap. I'm grateful for the service. The speedy and professional way in which they handled things really helped me out.
Whenever I'm after a site clearance, I hire this firm to take care of things. When it comes to builders waste disposal, they are the only company I'd consider. They're cheaper than the competition too.
Show all