For Every Kind of London Junk Removal, We Have the Ideal Solution for You
If you need junk, waste or rubbish removed from somewhere then we are the junk removal waste company who can solve that problem for you. Hiring Got Junk is the easy way to get rid of any waste because we have the technical expertise and workforce of a professional junk removal firm you're looking for. We give you waste collection that's professional and makes sure that any rubbish or refuse that is causing you a problem will be disposed of safely and securely. By hiring us, you can be sure you are hiring a professional rubbish collection firm that works within legal guidelines and regulations concerning junk removal.
Book Our Waste Removal Services
It may be you have a garden where there are a number of items strewn about, making the place not just untidy but unhygienic. It may be you're having a clear out of your home, in that case we can come and pick all your items up at a time and date which suits you. Our business is all about collecting and disposing of your rubbish in a responsible and safe way. By calling us on 020 3743 0222 you'll be taking the first step in doing that. We can also answer any questions you have and confirm just how cheap our prices are compared to elsewhere. Responsible waste removal is good for yourself, your property and good for the environment. By having our waste removal company dispose of your rubbish it's also good for your finances.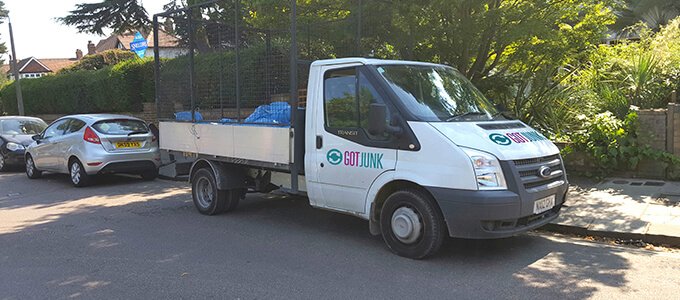 We Can Handle Any Junk Removal Task in London
Whatever you want removed, our refuse removal company will remove it for you. It could be commercial refuse, domestic rubbish. It could be actual junk, bits of metal, waste or rubbish, items such as white goods, furniture or electrical equipment. You can be sure that no matter what you have and what you need got rid of will be disposed of legally which saves you having to worry about accidentally breaking any laws. Quite simply, we do all the rubbish collection work for you. You simply tell us where the junk or rubbish is and our trained employees will come and collect it fast and efficiently, making sure an excellent, professional job is done. In no time at all, any space can be cleared and any amount of junk can be cleared. In addition, it saves you having to hire a skip which can sometimes be more trouble than it's worth. We also cover a number of different areas. Apart from being hygienically the right thing to do, junk clearance can transform how any space looks. Once it's rid of waste or rubbish then you can make that space, be it a piece of land or a room or house, as attractive as you want it to be. The first step to do that is to remove the junk responsibly and the first step in doing that is to contact our junk removal waste company.



Call Now and Get a Discount on Our Got Junk Removal Services
Since we are a junk clearance company that has prices so affordable, you can use us time and again or if you have more than one place that needs to be cleared. It's always handy to know that with one phone call to Got Junk, you can have any place cleared in no time at all and for a great price. Our company is the number one cost-effective way to clear any space. We are the waste collection professionals that makes life so much easier for you.

No Junk Collection Job is Too Big for Us
So whether it's commercial waste, residential waste or whatever it is you want collected and taken away, we can do it for you. The sooner you get in touch with us the sooner you can have any space cleared of junk or rubbish, so call 020 3743 0222 and let us know what you want us to do. We can confirm just how low our prices are and show that we are the junk removal waste experts you've been looking to find.
Our Testimonials
The loft clearance took place on time and they had it totally cleared out before I knew it. They recognised my need for speedy service, and they went about providing the perfect service, doing a top job.
I thought their loft clearance lads had their work cut out for them. I didn't give them an easy job. But they handled it like the top team of professionals I'd been hoping they'd be.
They turned out to be a great rubbish removal company. They came and carried out the service pretty much right away and for a very good price. It was the fuss-free, cheap service I was after.
I hired them for rubbish removal. I was getting rid of a lot. They gave me a good price and were still able to come over and take everything away on the same day.
Show all