Come to the Junk Removal Collection Experts Who Also Give You a Lower Price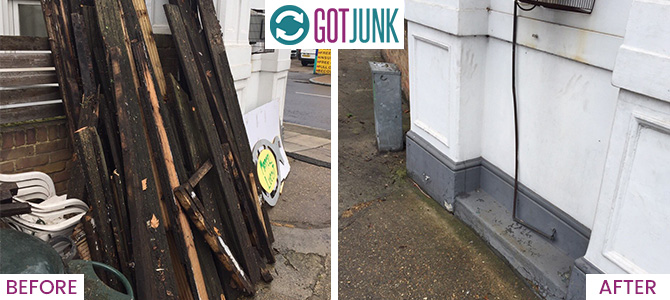 No matter where it is, if there is rubbish lying around, it cannot only be unhygienic, it can make any place look untidy and unpleasant. At the same time, no matter whether there is a lot of rubbish or relatively little, it can be a difficult and time-consuming job to carry out the rubbish removal collection right. However, there is a solution which is both efficient and economical and that's to call Got Junk. We are the waste removal collection company that is specifically there for such a situation. It may be in a property, it could be in the garden or an open space or elsewhere and you need a professional job done. We have that professional expertise you need which means we have the technical knowledge regarding every type of waste collection. Likewise, our employees are trained to handle every type of junk, waste and rubbish.
With Us You Receive Cheap Junk Removal
When you call us, we arrange a time and date which suits you for our dedicated waste collection staff to arrive at your address. Once there we pick up the rubbish, clearing any space, taking everything away for you and disposing of it safely. It's the perfect service if you're wanting rubbish removal done fast and efficiently and for a cheaper price. We are committed to the giving you better prices than you will find elsewhere which is one reason we are so widely used by people who need professional yet amazing value London rubbish removal collection. You can call us now on 020 3743 0222 if you would like to know just how good our prices are and what we can do for you.

Our Junk Removal Services Are Head and Shoulders Above the Rest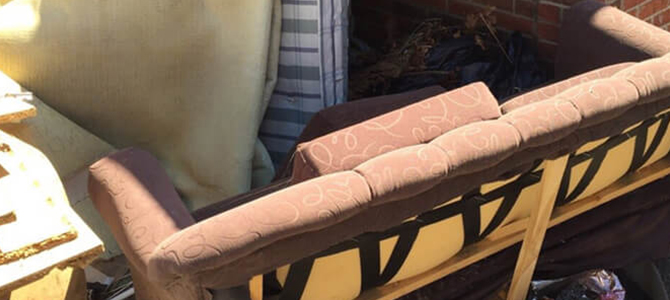 Our rubbish removal service is the ideal choice whether it's commercial rubbish removal or house rubbish removal. It's amazing how much litter and refuse can build up in a short period of time, however, if you're faced with a mountain of rubbish to clear, there is really no need to worry as long as you call our rubbish removal company. You will love the transformation that takes place of any space because of our hard-working employees who get the job done quickly and efficiently. It could be at the back of your business or home. It could be items on the street or in your house or business premises. Sometimes, you may not know what exactly the rubbish is and it's for that reason it's so much safer to hire us than to do it yourself.
Get Your Free Junk Removal Quote Today
Put simply, we know what we are doing when it comes to rubbish removal. It's our business to know and we are here for those situations where you feel it's not in your interests to clear up rubbish yourself whether it's for safety reasons or that the work is too physically demanding or too time-consuming. With our rubbish removal London prices so low, there is no need to take a chance with your health or safety. We are a waste collection firm who disposes of all rubbish as it should be done, safely and within the law. This means you don't have to worry about regulations, you can simply rely on our expertise.
We Provide Everything from Household Junk Removal to Office Junk Removal
The rubbish doesn't have to be a certain type either. What we class as 'rubbish' is what you class as rubbish. It's anything you want disposed of and that you don't have need for. So whether it's actual items such as an old bed, an old bike or whatever, whether it's actual rubbish, waste or something similar, you can call on us to get the job done. We are your means of getting rubbish cleared safely and securely so call us now on 020 3743 0222 and get rubbish collection quickly and efficiently by our certified rubbish removal trucks. In the short time it takes, you'll be delighted you did. You know as we know that any space cleared of rubbish is a better space. Got Junk gives you that better space by giving the better local rubbish removal collection service that's such amazing value.
An Efficient Man and Van Junk Removal Solution
Getting rid of rubbish doesn't have to be a tedious task that takes up your free time and requires a lot of effort on your part. With our handy man with a van rubbish removal services, you can forget about the hard work and enjoy your free time while we collect and dispose of all your waste safely, professionally and quickly. We will send you a team of men and a van of a suitable size to make short work of your rubbish collection job in London and leave you with a clutter-free home or office. This is the easiest and most convenient way to dispose of waste, and the best bit is that our services are also extremely competitively priced, so you won't have to spend big either. Call us now on 020 3743 0222 for a free estimate and to reserve your appointment with our team.
We Offer a Comprehensive Garden Junk Removal Service Too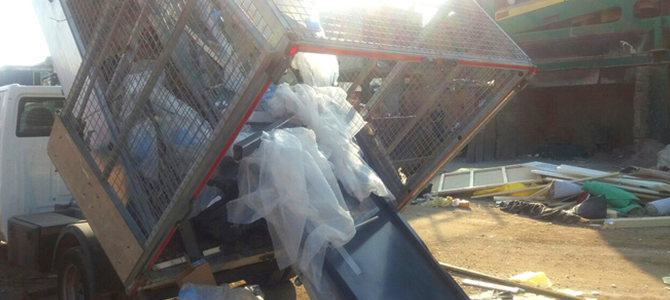 Every time you do some gardening there is bound to be some garden waste left behind. This goes for both regular garden maintenance and more complicated tasks like landscaping. How do you get rid of that waste? Easily – just call Got Junk. Our garden rubbish removal services cover all types of waste that can be generated in your garden – green waste, such as hedge clippings and grass, debris and stones, even old patio furniture and derelict sheds. Whatever kind of junk is marring the appearance of your beautiful garden or preventing you from enjoying it to its full potential, we will deal with it without any problems and take it away to be properly recycled. Book our waste disposal service for your garden today and forget all your worries about those broken chairs, stones and branches in your front or back yard.
The Most Reliable Domestic Junk Removal Service in London
We offer a number of different solutions for both domestic and commercial properties, but domestic rubbish removal still makes up a large portion of our work and a significant part of our domestic clients are regular customers who, in some cases, have relied on our services for years. Our customers are the backbone of our business and we are proud that so many people choose us for handling their waste. Customer satisfaction is our number one priority and we make sure all the needs of our customers are met thanks to our incredible dedication to our work and our skilled teams. We also want to give more people the chance to take advantage of our top quality waste removal services, that's why we aim to keep our prices as low as possible. Book our services today on 020 3743 0222 and see why so many home owners and landlords rely on us.
We Can Cater for Building Junk Removal Too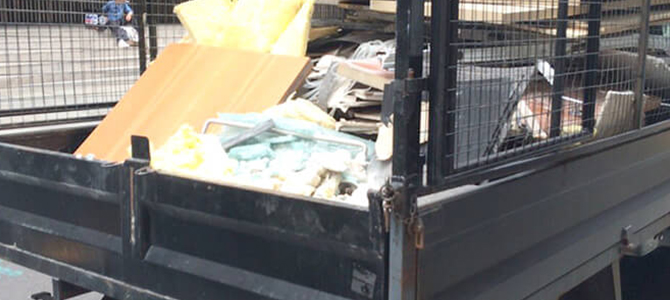 Renovations and construction work always result with large amounts of waste, and many a times that waste can be hazardous or hard to handle. We have the perfect solution to disposing of construction waste in a safe and efficient manner – our comprehensive building rubbish removal service in London. We have worked at many construction sites and many newly refurbished properties over the years and we know how to handle all kinds of builders waste without damaging your property or causing any injuries. Our man and van rubbish removal crews are equipped with the know-how, tools and sturdy vehicles needed for collecting, loading and transporting heavy and potentially dangerous building junk and we will send all the waste for recycling at one of the specialised centres we work with. Call 020 3743 0222 now to book and you will very soon be able to enjoy your newly built or renovated property.
What Is Junk Removal Going to Do for Your Property?
Thorough waste and rubbish removal performed at your property can give you numerous benefits. To start with, removing all the junk from your house, flat or business premises will leave you with a lot more space which you can put to good use in various ways. Imaging having enough room to dedicate to your hobby or convert into a guest bedroom – that would be nice, wouldn't it? Furthermore, waste can make cleaning harder and the gathered dirt and dust can cause many health problems or make your existing conditions worse, especially in the case of respiratory problems, and removing that waste will make your environment a lot healthier. Our man with a van rubbish removal services will help you get all those benefits and more and, for the cherry on top, we will charge you a pleasantly low price.

Our Junk Removal Services Don't Harm the Environment
Got Junk is an extremely environmentally-conscious company and that is reflected throughout every aspect of our waste collection and disposal services. We use top-of-the-range equipment and vehicles with the best fuel-economy characteristics to minimise our carbon footprint as much as possible. We always choose the shortest possible route so that there are no unnecessary greenhouse gas emissions. But perhaps the largest part of our 'green' policies is dedicated to recycling – with a track record of recycling a minimum of 85% of the collected rubbish, we are one of the greenest waste removal companies in London and beyond. We don't resort to landfill dumping unless we have exhausted all other possibilities for reusing, repurposing or recycling your waste. Let us help you help the environment – get in touch today to book our eco-friendly services.
Leave Rubbish Disposal to Our Skilled Teams
Now, you don't have to get your hands dirty, look for a suitable vehicle to transport your waste to the recycling depot or landfill, obtain various permits and sacrifice your free time. Our waste and rubbish removal solutions allow you to deal with your unwanted items, rubbish and clutter in a much easier way. Our crews consist of well-seasoned professionals who have many years of experience in handling all kinds of waste items and know how to deal with everything you might want to get rid of. They've seen it all and cleared it all away, so they won't be a bit surprised with or put off even the most unconventional jobs or requirements. Give us a ring, tell us what's bothering you and we will find a suitable solution. Leave rubbish collection to the experts and you won't regret it!
We Can Take Your Waste Away Today with Our Same Day Got Junk Removal Service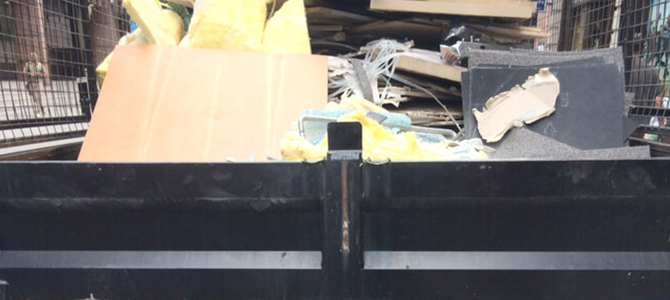 There are times when you might need a rubbish collection service in a jiffy and you might start panicking because such solutions are few and far between in London. Don't fret – we will come to save the day with our great same day waste disposal service. We have the fastest response times in the entire capital and we can be with you by the end of the day to collect all the rubbish that is causing you troubles and take it out of your sight and away from your property for good. We will be there for you for even the most urgent requests, delivering quick but still very thorough services. Call 020 3743 0222 now and watch all your waste-related issues fade away today!
Bag a Bargain on Our Efficient Waste Removal Services Today!
"What is rubbish removal going to cost", you may ask. The answer is quite straightforward – if you hire us, it will cost you very little. Our prices are the lowest in the industry, but that doesn't mean a substandard service or inconsistent results. Far from it – we guarantee you the highest quality rubbish disposal services in London at bargain prices. Our efficiency and experience allow us to keep our overheads low and in turn charge a lot lower prices than the competition without any negative effects on service quality. Our regular promotional campaigns, discounts and special deals will bring the price even further down to help you make great savings. Call us now on 020 3743 0222 to get a detailed quote, free of charge!
Our Testimonials
The rubbish collection job involved them having to remove everything from a rather small loft space and carry it down two flights of stairs out of my house. It was labour-intensive. I found the price I paid to get everything sorted pretty remarkable.
The rubbish removal team made carrying everything out of my loft and house seem easy. It was anything but. They handled it all professionally, and thankfully, didn't create a mess.
The rubbish removal team had my loft completely cleared in no time at all. It was a speedy, fuss-free service that accomplished what was needed.
The rubbish removal and recycling service were right up my street, as was the quote, of course. I booked Got Junk in and was treated to the professional service I was after. I'd recommend them to anyone.
Show all